Is the Focusrite Scarlett 2i2 the best budget USB audio interface for voice actors? It's well built, has two audio inputs and is easy to use. But is that enough? And wait, what does that Air button do? Let's dive in.
The questions I get from beginner voice actors often revolve around audio gear. And it's easy to see why.
It can be tough to decipher exactly what equipment you need to get yourself up and running in voiceover.
And then once you know the pieces of the puzzle, what model should you actually buy?
So let's look at one of those gear related puzzle pieces: the audio interface. Specifically the 3rd generation Focusrite Scarlett 2i2.
First…
What Is an Audio Interface?
A USB audio interface acts as a bridge between an XLR microphone and your computer.
The audio signal coming from your XLR microphone is analog
Your computer and DAW (digital audio workstation) require a digital signal
An audio interface turns that analog signal into a digital signal your computer can read and record.
Learn more about the gear you'll need in my complete course for beginner voice actors.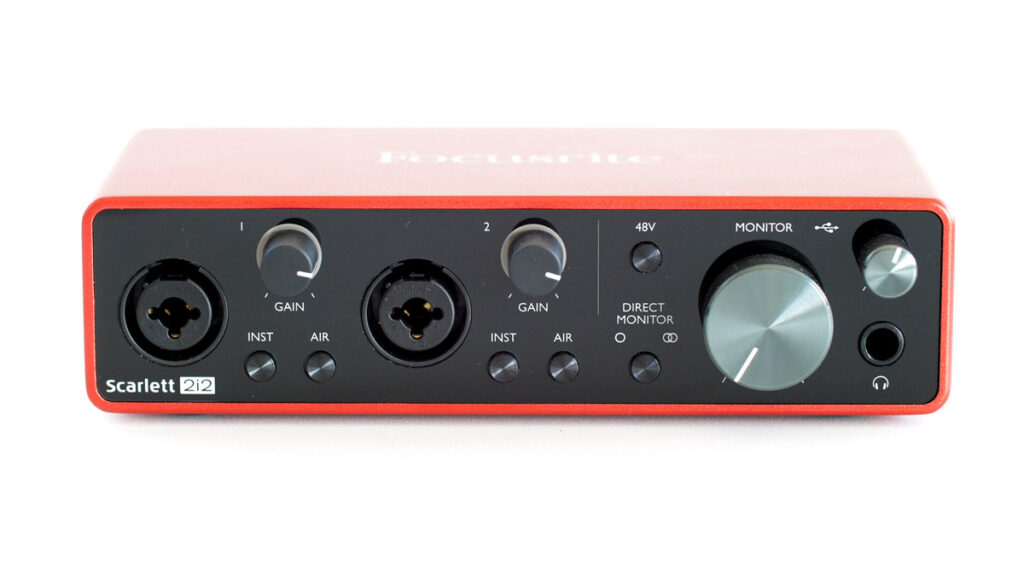 What Is the Focusrite Scarlett 2i2?
The Scarlett 2i2 is a bus powered USB audio interface that has two mic/line inputs that can be used with XLR microphones and instruments with 1/4″ connections alike.
It has 24-bit 192 kHz AD/DA converters for high performance and clarity
Two low noise, low distortion mic preamps
The two independent outputs support both external studio monitors and monitoring headphones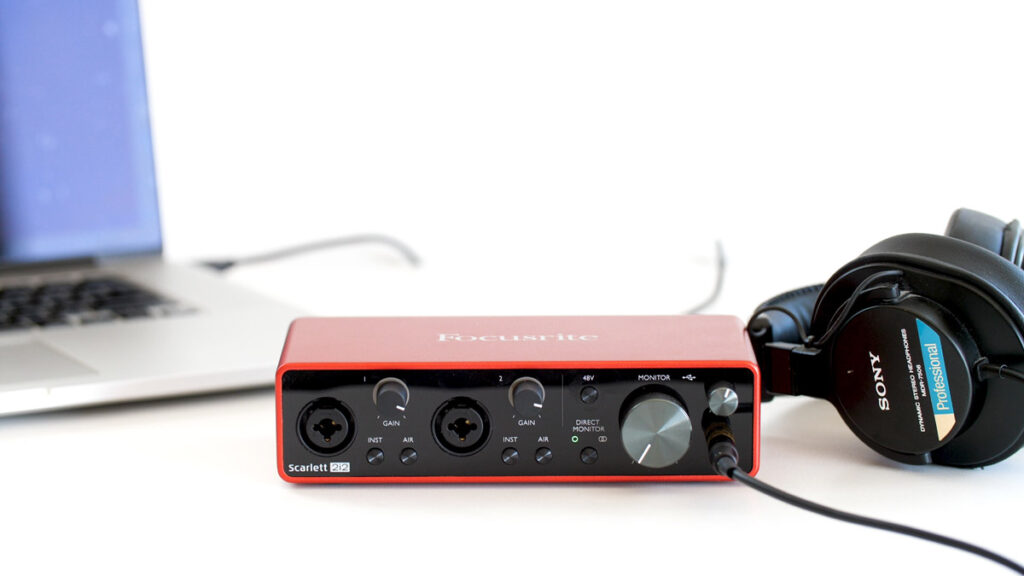 Why Is the Focusrite Scarlett 2i2 so Popular With Voice Actors?
Everyone (myself included) is always looking for the illusive cost effective gear you can use for a long time without needing to upgrade. This two-input Scarlett is just that.
User Friendly
One of the main advantages to the 2i2 is that you can hit the ground running without needing to already know a ton of technical stuff.
Controls are laid out in a logical way.
Light rings around the gain knobs flash green for a good input signal – and red if you're clipping (or have too much volume going in).
Versatile
USB-C connectivity that works with any DAW on both Mac and PC (you can even use it with an iPad Pro).
Having two inputs makes it great for voice actors who may also want to work on podcasts. You can plug in a second mic and monitor and record both at once.
Works with instruments via 1/4″ jack. Aside from being a voice actor, I'm also a drummer. I've used this thing to record guitar, bass – and, obviously, it's great with vocals.
Budget Friendly / Premium Materials
It's a great piece of starter gear for beginner voice actors that doesn't force you into compromises quality wise. Think studio quality recordings on a budget.
Build quality is superb. The buttons are satisfying clicky and there's smooth action on the knobs.
This thing is reliable. It just always works. And it's a load-off to know you can count on your gear in a paid session with a client.
Low latency (practically latency free) monitoring in both mono and stereo.
And it provides phantom power.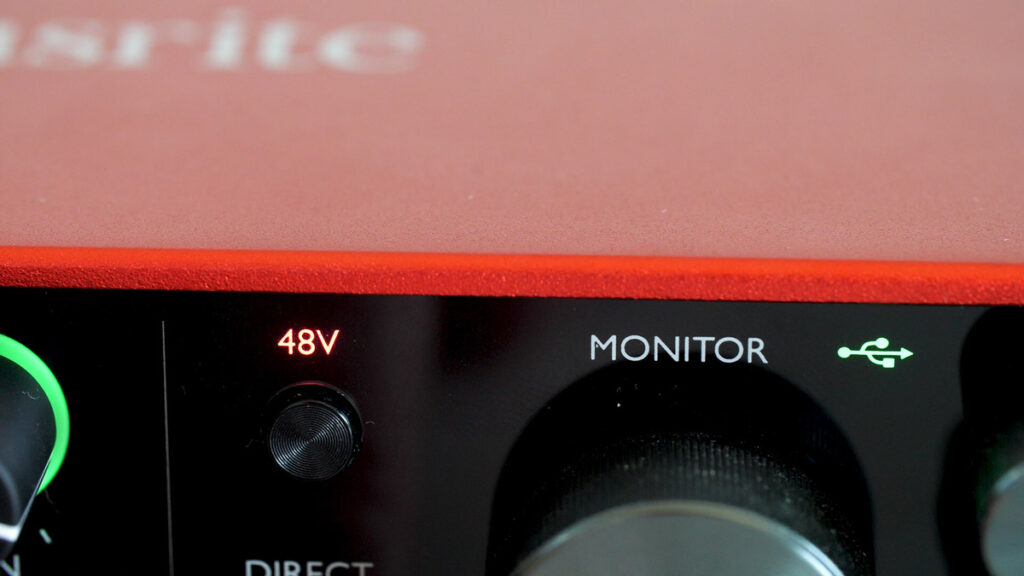 What Is Phantom Power?
Phantom power delivers DC (direct current) via an XLR cable, which powers the the circuitry of your condenser microphone.
As you speak, the power amplifies the vibrations your microphone is capturing from your voice.
Phantom power is also referred to as 48v power.
Condenser microphones have active electronics that require 48v power to operate. However, dynamic mics are passive – and do not.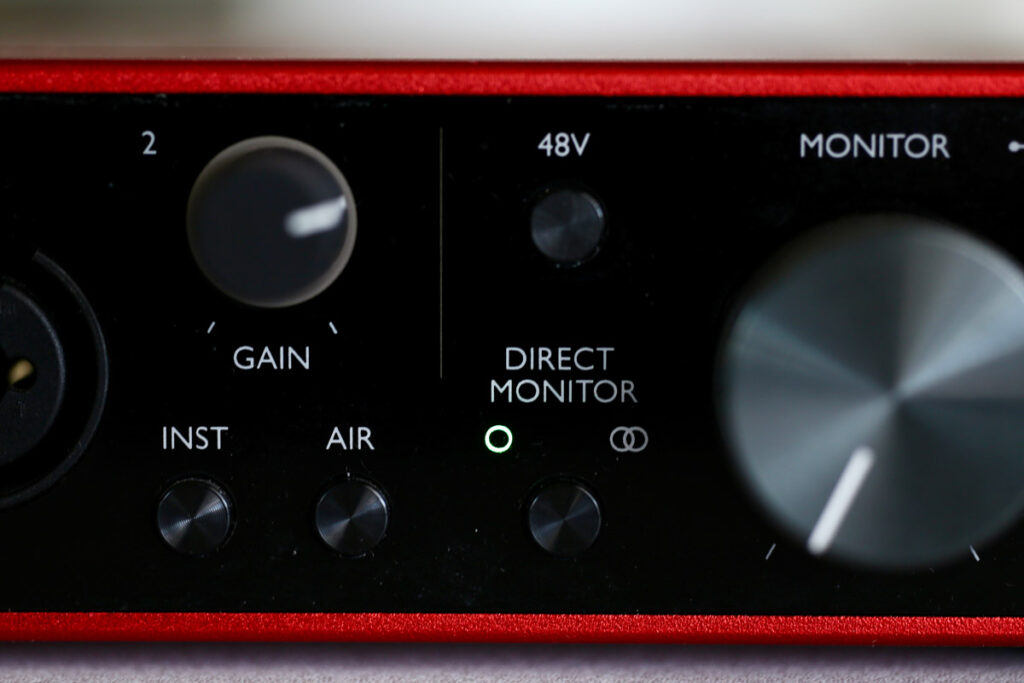 What Is Direct Monitoring?
First, let's talk about the route your audio signal has to take before it reaches your headphones.
Here's an oversimplification: In most set ups, the audio signal travels from the microphone into the audio interface, and then into your computer. It is then processed by your computer and sent back to to your audio interface – where it is finally pumped into your headphones.
That's a long way to travel.
Sometimes this can cause a little delay (aka: latency) where what you're hearing is a few milliseconds removed from real time. And this delay can be distracting to the voice actor.
Using direct monitoring sends the signal directly from your audio interface into your headphones without the round trip to your computer.
When using direct monitoring, you'd want to select the mono preset – so you hear your voice on both sides of your headphones equally.
The Scarlett 2i2 has a direct monitor button – and the option to select a mono output.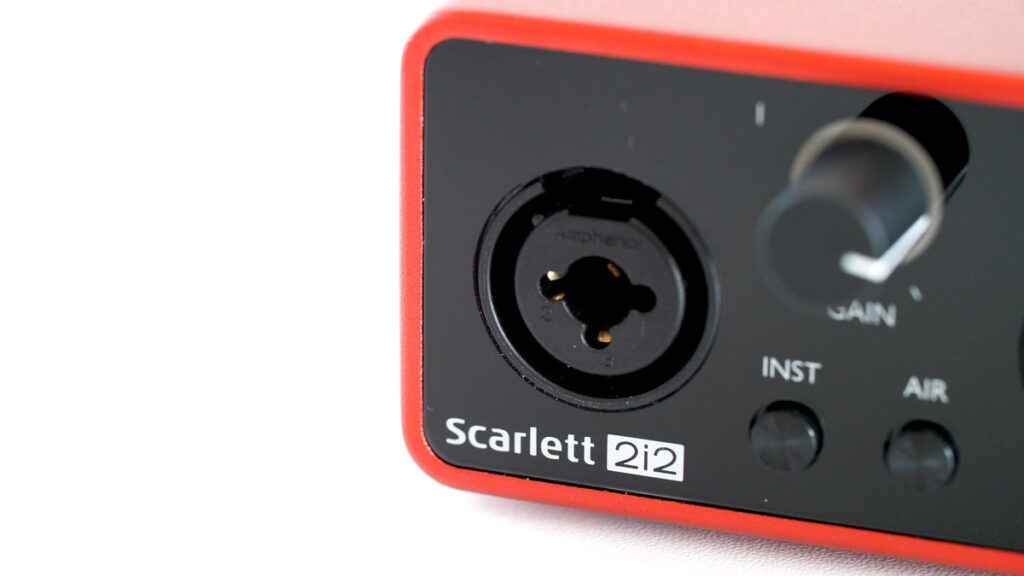 What Does the Air Button Do?
The Air button is a circuit on the 3rd Gen Scarlett 2i2 that, when triggered, emulates the Focusrite ISA 110 mic preamp.
Essentially, it can add presence and brighten up your voice a bit.
A little added clarity can be helpful if you're using a mic that naturally has a lower, muddy sound profile.
Voice actors will want to use this with caution. I'll explain why in a second.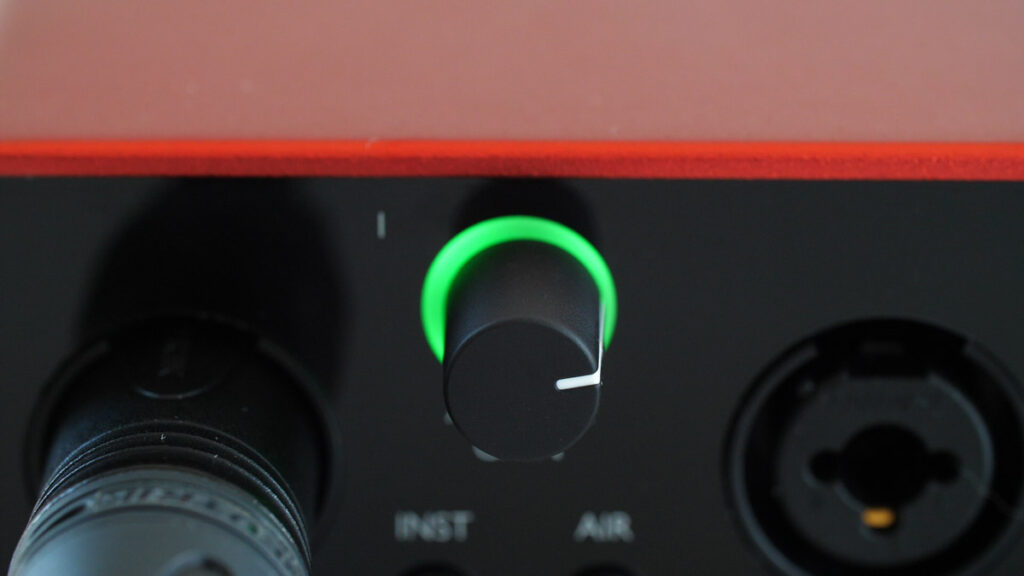 Focusrite Scarlett 2i2 Pros and Cons
Pros
It's a versatile plug-and-play USB audio interface for use in voiceover, podcasting and music creation.
Two inputs allows for a second microphone (for the podcasting set).
Solid build quality. This thing is a tank.
Fairly portable. You can easily toss it in a backpack and use it on the road, no problem.
Provides 48v phantom power.
The Air button is a neat little trick to brighten up a muddy mic – or add presence, clarity and give you an overall more broadcast-y sound.
Colored lights around the gain knobs easily let you know if you are clipping.
Regularly bundled with additional software licenses for Ableton Live Lite and a 3 month trial for Avid Pro Tools (if you register your product with Focusrite).
The 2i2 has a USB-C port on the back that draws power from (and communicates with) your computer.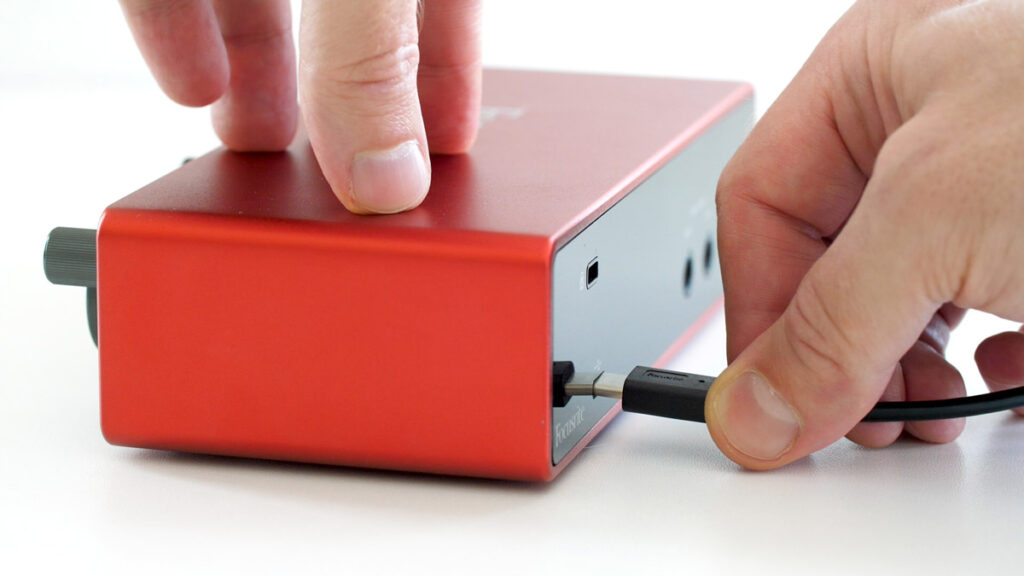 Cons
However, while there's a USB-C connection on the back of the interface, there's only a USB-C to USB-A cable included in the box. You'll have to buy a separate USB-C to C cable if you want to use it with a newer computer. Or you can use a dongle. Ugh.
That massive knob on the front of the interface only controls the volume of external monitoring speakers. While that's not a bad thing – there's no way to set that huge, satisfying twisty bit up to control your headphone volume for those of us that edit in the cans (although there is a smaller knob for doing just that).
The Air button triggers a preamp effect that's cool, but is destructive to the sound file. Essentially, if you decide you don't like the effect after you've recorded with it, there's no way to revert your file (unless you're a wiz and can fix it in post production). And as a voice actor, you want to send audition files that aren't heavily effected.
The metal housing is SO. DAMN. RED. Although some might consider the color scheme a pro.
Are any of these dealbreakers? Not for me. Let's be real, I'm kinda splitting hairs here. But what about you? Let me know what you think in the comments section!
Start Your Career as a Voice Actor
Voice Over: The Ultimate Beginner's Guide
Bottom Line: Is It Worth the Cost?
I think so.
The Focusrite Scarlett 2i2 offers great bang for your buck. And it can remain a valuable part of a beginner voice actor's set up for years without needing an upgrade – even if you end up buying a better microphone down the road.
Grab a new Scarlett 2i2 on Amazon here – or look for good deals on a used model on reputable online marketplaces like Reverb.
Another similarly priced option for a prosumer audio interface would be the excellent MOTU M2.
And if you only need a single audio input, you might consider the slightly cheaper Focusrite Scarlett Solo.
What voiceover gear related questions do you have? Ask away in the comments.
---
And check out these other things beginner voice actors should know about:
Plus:
Curious about how to start your voice acting career? Want to learn more about voice acting and the things beginners should know about the voice over industry? Bring your natural talent and check out my class for beginners!